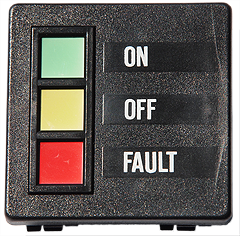 This signal light was repeatedly requested by customers, so we decided to put them into reality. The signallight has the same chassis as the WSF 810 - types. It can, just like this ones, be printed with silk-screen. There are no restrictions - only the number of letters. We have a broad selection of inscriptions ready in our catalog- for example German, English, Arabic and Cyrillic letterings. In total, there are approximately 1800 finished labels. With an extra charge it is also possible to create your own label.
So what is specially with this light, compared to the conventional WSF 810-light?
The WSF 142 - types have a separate port for light test. This is mandatory for some applications - with a corresponding circuit from a central panel is it possible to check the function of the lights.
In the scheme in the lower region you can see the principle of the circuit.
These lights are available for voltages of 12, 24, 36 or 48 VDC.